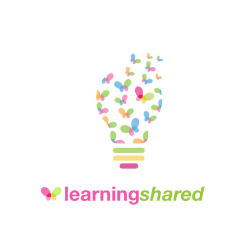 LearningShared

A NEW & UNIQUE PROFESSIONAL DEVELOPMENT & LEARNING OPPORTUNITY



Welcome to the LearningShared CPLD offer. We are delighted to share this unique professional development and learning opportunity created by inspiring colleagues such as Professor Barry Carpenter (CBE OBE, DLitt FCCT) Diane Rochford (OBE) Vijita Patel (NLE) and featuring illuminating case studies & inputs from leading schools and professionals across the EfL community of practice.

The 7 modules all consist of a main lecture, reflective conversations & questions, suggested reading & wider research and a live event with leading experts across the sector including panel discussions and interactive sessions answering the key questions for your setting.
LearningShared CPLD Programme Overview
Authentic Curriculum Intent – Implementation – Impact for Inclusive School Development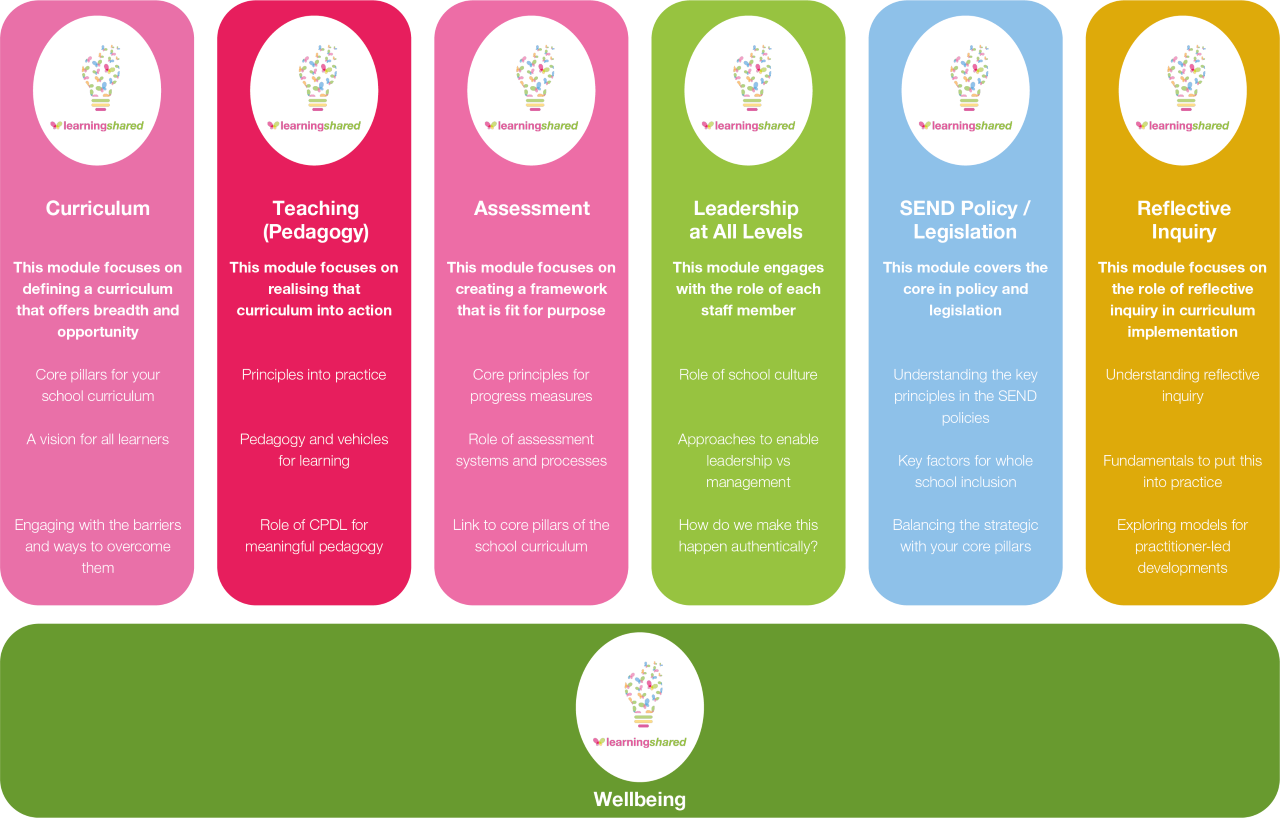 LearningShared can be used to support colleagues at every stage of their career from ECT's to experienced leaders and everywhere in-between. Check out our 'making the most of' sessions which explore creative ways to use our innovative blended offer. Whether it be signposting individuals / groups to specific modules, supporting appraisal & PM or using aspects for whole school INSET, Learning Shared is here to support your SEND & Inclusion CPLD needs.
Our community is built on collaboration and connectivity. If you have practice you would like to share or feature in our case studies we would love to hear from you.
Yours in partnership,
The LearningShared Team
For general enquires about the LearningShared CPLD Programme, please complete the 'Contact Us' form and one of the team will be back in touch.


If you would like to place an order, please complete the Registration Form.
Meet some of the instructors
Barry Carpenter
BARRY CARPENTER HAS A CAREER SPANNING OVER 40 YEARS. HIS APPOINTMENTS INCLUDE PROFESSOR OF MENTAL HEALTH IN EDUCATION TO OXFORD BROOKES UNIVERSITY, AND HONORARY PROFESSORSHIPS AT UNIVERSITIES IN IRELAND, GERMANY AND AUSTRALIA, AS WELL AS PRINCIPAL, CHIEF EXECUTIVE, AND NATIONAL DIRECTOR FOR COMPLEX NEEDS AT THE GOVERNMENT DEPARTMENT FOR EDUCATION. HE HAS BEEN A FELLOW OF THE UNIVERSITY OF OXFORD, AND SPEAKS AND PUBLISHES INTERNATIONALLY ON SPECIAL NEEDS ISSUES INCLUDING "GIRLS AND AUTISM" AND "ENGAGING LEARNERS WITH COMPLEX NEEDS".
HE RECENTLY BECAME A PATRON FOR THE ADHD FOUNDATION, AND IS A TRUSTEE BOARD MEMBER OF THE ASSOCIATION OF CHILD AND ADOLESCENT MENTAL HEALTH, (ACAMH). HE IS A FELLOW OF THE CHARTERED COLLEGE OF TEACHING .
HE IS THE CO-AUTHOR, (WITH HIS SON, MATTHEW) OF THE RECOVERY CURRICULUM, (WWW.RECOVERYCURRICULUM.ORG), WHICH HAS SHAPED AND INFLUENCED THE THINKING OF MANY SCHOOLS DURING THE PANDEMIC PERIOD.
Alistair Crawford
ALISTAIR IS CURRENTLY DIRECTOR OF SEND & INCLUSION FOR ST MARTIN'S AND ST ANDREW'S SCHOOLS IN DERBY. PRIOR TO THIS, HE WORKED IN A RANGE OF SPECIALIST SCHOOLS ACROSS THE EAST MIDLANDS AS A TEACHER AND SENIOR LEADER.
AS AN EXPERIENCED SPECIALIST LEADER OF EDUCATION AND SCHOOL / MULTI-ACADEMY TRUST REVIEWER ALISTAIR HAS SUPPORTED MANY SCHOOLS AND COLLEAGUES TO DEVELOP THEIR SEND PROVISION AND IMPROVE OUTCOMES FOR YOUNG PEOPLE WITH ADDITIONAL NEEDS.
A BIG PASSION FOR ALISTAIR IS RAISING ASPIRATION FOR THE AMAZING YOUNG PEOPLE WE WORK WITH AND HE IS CURRENTLY WORKING WITH A RANGE OF NATIONAL PARTNERS TO SUPPORT PATHWAYS TO EMPLOYMENT AND PARTICIPATION IN ELITE SPORTS. ALISTAIR IS A MEMBER OF THE REGIONAL TEAM FOR WHOLE SCHOOL SEND ( EMSYH), CO CHAIR OF THE NATIONAL NETWORK OF SPECIALIST PROVISION (NNSP) AND IS CURRENTLY THE SPECIALIST LEAD FOR OAK NATIONAL ACADEMY.
Sharon Gray
SHARON HAS BEEN A HEADTEACHER FOR 18 YEARS. THIS INCLUDES 12 YEARS HEADSHIP LEADING SPECIAL SCHOOLS INCLUDING RESIDENTIAL UNITS FOR CHILDREN AND YOUNG PEOPLE EXPERIENCING SEVERE SOCIAL, EMOTIONAL AND MENTAL HEALTH DIFFICULTIES (SEMH) AND 6 YEARS AS THE HEADTEACHER OF A LARGER THAN AVERAGE MAINSTREAM SCHOOL WITH AN ENHANCED PROVISION FOR CHILDREN EXCLUDED FROM OTHER SCHOOLS DUE TO EXPERIENCING SIGNIFICANT SOCIAL EMOTIONAL AND MENTAL HEALTH DIFFICULTIES. SHARON HAS ALSO LED TWO NURTURE UNITS AND A PROVISION FOR VULNERABLE 2 YEAR OLDS. DURING THIS TIME SHARON BECAME THE EXECUTIVE HEAD WHILST SUPPORTING AN ADDITIONAL SCHOOL IN NEED.
ALL THREE SETTINGS THAT SHARON LED WERE JUDGED AS OUTSTANDING BY OFSTED. SHE HAS ALSO BEEN AN OFSTED INSPECTOR FOR 9 YEARS AND IS A BSO ACCREDITED INSPECTOR.
SHARON IS CURRENTLY AN EDUCATION CONSULTANT AT WHOLEHEARTED LEARNING, A CO-OPTED MEMBER OF 'ENGAGE IN THEIR FUTURE' – REPRESENTING SPECIAL SCHOOLS NATIONALLY FOR YOUNG PEOPLE EXPERIENCING SEVERE SOCIAL, EMOTIONAL AND MENTAL HEALTH DIFFICULTIES. SHE IS ALSO A MEMBER OF THE YOUTH JUSTICE BOARD – WITH THE STRATEGIC OVERVIEW PROJECT LEAD; OF EDUCATION IN CUSTODY AND THE DEVELOPMENT OF OUR FIRST SECURE SCHOOL.
SHARON IS A PUBLISHED AUTHOR AND DESCRIBES HER WORK AND PURPOSE AS TAKING A SYSTEMIC APPROACH TO HELP ADULTS, TEAMS, SCHOOL, COMMUNITIES, LOCAL AUTHORITIES TO CREATE ENVIRONMENTS THAT ENRICH THE EMOTIONAL WELL-BEING, CREATIVITY AND LEARNING OF CHILDREN AND YOUNG PEOPLE. THE FOCUS BEING TO RELEASE A CHILD'S INNATE DESIRE TO LEARN AND FOR THEM TO DISCOVER JOY IN THEIR LEARNING AND SO ACHIEVE THE BEST OUTCOMES POSSIBLE.
HER PHILOSOPHY IS ONE OF AUTHENTIC INCLUSION AND HER AIM IS FOR EVERYONE WITHIN THE COMMUNITY THAT SHE WORKS WITH TO SEE THEMSELVES AS A RESPONSIBLE AND VITAL PART OF SECURING POSITIVE OUTCOMES FOR ALL.
Vijita Patel
VIJITA PATEL IS THE PRINCIPAL OF SWISS COTTAGE SCHOOL, DEVELOPMENT & RESEARCH CENTRE, A SPECIAL NEEDS SCHOOL FOR CHILDREN AGED 2 TO 19 IN LONDON. THE SCHOOL IS A DESIGNATED NATIONAL TEACHING SCHOOL, LEADING A LARGE ALLIANCE OF SCHOOLS, ORGANISATIONS, AND HIGHER EDUCATION PARTNERS TO DRIVE SYSTEMIC IMPROVEMENTS IN THE SCHOOL SYSTEM FOR PUPILS WITH SPECIAL EDUCATIONAL NEEDS (SEN) AND DISABILITIES.
AS A NATIONAL LEADER OF EDUCATION, VIJITA SUPPORTS HEADTEACHERS, SENIOR AND MIDDLE LEADERS, SENCOS, AND LOCAL AUTHORITY TEAMS ON LEADING LOCALITY AND PROVISION DEVELOPMENTS AS THE COMPLEXITY OF NEED INCREASES WITH THIS NEW GENERATION OF CHILDREN WITH SEN.
SHE HAS CONTRIBUTED TO THE DEVELOPMENT OF PROGRAMMES FOR TEACHER TRAINING AND LEADERSHIP DEVELOPMENT, AND ALSO WORKED WITH POST-GRADUATE STUDENTS ON PERSONALISED LEARNING THROUGH RESEARCH ON COGNITIVE PROCESSING.
VIJITA IS CO-AUTHOR OF THE LONDON LEADERSHIP STRATEGY 'SEND REVIEW GUIDE', DEVELOPED TO PLACE OWNERSHIP OF STRATEGIC SOLUTIONS DIRECTLY WITH TEACHERS AND SCHOOL LEADERS. SHE IS ALSO A TRUSTEE OF THE VARKEY FOUNDATION.
SWISS COTTAGE SCHOOL DEVELOPMENT AND RESEARCH CENTRE IS ONE OF EIGHT SCHOOLS IN THE COUNTRY TO HAVE SIX CONSECUTIVE 'OUTSTANDING' OFSTED INSPECTIONS.
Laura Purser
LAURA IS THE HEAD OF PRIMARY, PREP AND EYFS, PGCE TEACHER TRAINING AT THE UNIVERSITY OF BUCKINGHAM AND ALSO LEADS ON SEN & INCLUSION, MENTAL HEALTH & WELL-BEING AT THE UNIVERSITY OF BUCKINGHAM. SHE HAS DESIGNED AND LEADS THE MASTER'S LEVEL NASENCO COURSE, TRAINING SENCOS FOR ACCREDITATION. (https://bit.ly/33CPoO9). LAURA ASPIRES TO ENSURE THAT ALL TEACHER AND SENCO TRAINING DEVELOPS QUALITY INCLUSIVE PRACTITIONERS WHO ARE PERSON-CENTRED TO ENSURE POSITIVE OUTCOMES FOR BOTH LEARNING AND POSITIVE MENTAL-HEALTH AND WELL-BEING. HTTPS://BIT.LY/2WIHXL8. – BLOG 'NAVIGATING YOUR INTERNAL COMPASS'.
Dr Tina Rae
DR TINA RAE HAS 40 YEARS' EXPERIENCE WORKING WITH CHILDREN, ADULTS, AND FAMILIES IN CLINICAL AND EDUCATIONAL CONTEXTS WITHIN LOCAL AUTHORITIES AND SPECIALIST SERVICES. SHE IS CURRENTLY WORKING AS A CONSULTANT EDUCATIONAL AND CHILD PSYCHOLOGIST IN A RANGE OF SEMH AND MAINSTREAM CONTEXTS AND FOR FOSTERING AGENCIES AS A CONSULTANT PSYCHOLOGIST SUPPORTING FOSTER CARERS, SOCIAL WORKERS AND LOOKED AFTER CHILDREN. SHE WAS AN ACADEMIC AND PROFESSIONAL TUTOR FOR THE DOCTORATE IN EDUCATIONAL AND CHILD PSYCHOLOGY (UNIVERSITY OF EAST LONDON) FROM 2010-16. SHE IS A REGISTERED MEMBER OF THE HEALTH AND CARE PROFESSIONS COUNCIL, A MEMBER OF ENSEC (EUROPEAN NETWORK FOR SOCIAL AND EMOTIONAL COMPETENCE) AND A FORMER TRUSTEE OF NURTURE UK.
DR TINA RAE WAS WINNER OF THE EDUCATION BOOK OF THE YEAR EDUCATION RESOURCES AWARD (ERA) AND A FINALIST OF THE SPECIAL NEEDS RESOURCE OF THE YEAR EDUCATION RESOURCES AWARD FOR HER PUBLICATION RAE, T. & SUCH, A. (2019) THE ASD GIRLS' WELLBEING TOOLKIT AN EVIDENCE BASED INTERVENTION PROMOTING MENTAL, PHYSICAL & EMOTIONAL HEALTH BUCKINGHAM: HINTON HOUSE PUBLISHERS. SHE ALSO WON AN AWARD FROM THE HEALTH SERVICE JOURNAL (HSJ) 2015 FOR CONTRIBUTIONS TO THE TIME 2 TALK (T2T) PROJECT WHICH AIMS TO INCREASE UNDERSTANDING ABOUT MENTAL HEALTH AND EMOTIONAL WELLBEING AMONGST YOUNG PEOPLE IN SCHOOL, TO CHALLENGE BARRIERS TO ACCESSING SUPPORT AND TACKLE THE STIGMA REGARDING SELF-HARM, MENTAL HEALTH, AND EMOTIONAL DISTRESS. A FURTHER NOTABLE HONOUR FROM NATIONAL ASSOCIATION OF SPECIAL EDUCATIONAL NEEDS (NASEN) WAS PRESENTED FOR THE PUBLICATION CO-AUTHORED WITH DR RACHAEL HAYES: RAE, T., & HAYES, R. (2009) KEEPING OUT OF TROUBLE A PREVENTIVE APPROACH FOR SECONDARY STUDENTS LONDON: OPTIMUS PUBLISHERS. THIS WON THE FIRST PRIZE IN THE SECONDARY RESOURCE/BOOK TO SUPPORT TEACHING AND LEARNING (NON-ICT). THIS PUBLICATION IS A PREVENTATIVE PROGRAMME FOR TEENAGERS WHO ARE AT RISK OF OFFENDING.
THIS RECOGNITION AS AN EXPERT AT A NATIONAL LEVEL IS FURTHER EVIDENCED BY DR RAE'S CONTRIBUTIONS TO THE DFE FUNDED PROJECT: COUGHLAN, B.J. & RAE, T. (2012) TRAINING RESOURCES FOR SPECIAL EDUCATION IN THE 21ST CENTURY MODULE 3.4: EMOTIONAL WELLBEING AND MENTAL HEALTH LONDON: DEPARTMENT FOR EDUCATION (WWW.EDUCATION.GOV.UK/COMPLEXNEEDS/)
TINA IS A MEMBER OF THE EDITORIAL BOARD FOR THE JOURNAL EMOTIONAL AND BEHAVIOURAL DIFFICULTIES AND FOR THE INTERNATIONAL JOURNAL OF NURTURE IN EDUCATION. SHE IS ALSO A MEMBER OF THE ADVISORY BOARD FOR FRESH START IN EDUCATION AND FOR THE ASSOCIATION FOR CHILD AND ADOLESCENT MENTAL HEALTH (ACAMH).
TINA IS A PROLIFIC AUTHOR AND HAS OVER 100 PUBLICATIONS TO DATE. THESE REFLECT HER ONGOING PASSION FOR DEVELOPING PRACTICAL RESOURCES FOR SCHOOLS WHICH HAVE AN EVIDENCE BASE AND ENABLE PRACTITIONERS TO ETHICALLY DELIVER EFFECTIVE PREVENTATIVE MENTAL HEALTH INTERVENTIONS IN SCHOOLS.
Diane Rochford
DIANE ROCHFORD OBE IS THE FORMER EXECUTIVE HEADTEACHER OF MULTIPLE OFSTED RATED OUTSTANDING JFK SCHOOL IN NEWHAM. IN 2015 DIANE WAS APPOINTED BY THE DFE TO CHAIR AND LEAD THE ROCHFORD REVIEW EXPERT REFERENCE GROUP WHICH HAS SEEN SIGNIFICANT CHANGES TO THE WAY WE ASSESS STUDENTS WITH ADDITIONAL NEEDS. AS AN ACTIVE OFSTED INSPECTOR AND SCHOOL IMPROVEMENT PARTNER DIANE CONTINUES TO IMPACT POSITIVELY ON PROVISION ALL ACROSS THE COUNTRY.
Dr Janet Rose
DR JANET ROSE IS A CURRENTLY PRINCIPAL OF NORLAND COLLEGE AND A FORMER ASSOCIATE PROFESSOR AND READER IN EDUCATION AT BATH SPA UNIVERSITY. SHE HAS A WEALTH OF EXPERIENCE IN SUPPORTING CHILDREN AND YOUNG PEOPLE, INCLUDING THOSE WHO HAVE EXPERIENCED UNMET ATTACHMENT NEEDS AND TRAUMA. SHE LED THE NATIONAL RESEARCH PROJECT ATTACHMENT AWARE SCHOOLS AND TRAUMA INFORMED PRACTICE, WHICH COMPRISED A COMPREHENSIVE PROGRAMME OF SUPPORT FOR CHILDREN AND YOUNG PEOPLE AFFECTED BY EARLY ATTACHMENT DIFFICULTIES, TRAUMA AND NEGLECT. SHE IS ALSO CO-FOUNDER OF EMOTION COACHING UK WHICH TRAINS AND RESEARCHES THE USE OF EMOTION COACHING AS A PRACTICAL STRATEGY TO SUPPORT THE DEVELOPMENT OF CHILDREN'S AND YOUNG PEOPLE'S SELF-REGULATION, BEHAVIOUR, WELLBEING AND RESILIENCE, INCLUDING CHILDREN AND YOUNG PEOPLE WHO HAVE EXPERIENCED ATTACHMENT DIFFICULTIES AND TRAUMA. SHE HAS WORKED CLOSELY WITH NUMEROUS VIRTUAL SCHOOLS AND ORGANISATIONS WHO SUPPORT LOOKED AFTER CHILDREN AND IS CURRENTLY A MEMBER OF THE MINISTERIAL CARE LEAVER SUMMIT. SHE IS THE AUTHOR OF NUMEROUS ACADEMIC AND PROFESSIONAL PUBLICATIONS RELATED TO ATTACHMENT AND TRAUMA, THE MOST RECENT OF WHICH IS A BOOK ENTITLED EMOTION COACHING WITH CHILDREN AND YOUNG PEOPLE. JANET IS ALSO A LEVEL 1 THERAPLAY PRACTITIONER, A SENSORY ATTACHMENT INTERVENTION PRACTITIONER AND A FELLOW OF THE HIGHER EDUCATION ACADEMY.
Meet some of the contributors
Amanda Mordey
WITH OVER 35 YEARS WORKING IN SPECIALIST PROVISION, 30 YEARS IN SENIOR LEADERSHIP AND 26 YEARS AS A HEAD TEACHER.
CURRENT POST: PRINCIPAL OF TWO SPECIAL SCHOOLS IN SOLIHULL, WEST MIDLANDS. FOREST OAK SCHOOL IS A SPECIAL SCHOOL FOR PUPILS WITH MODERATE LEARNING DISABILITIES AGED 4 – 18. MERSTONE SCHOOL IS A SPECIAL SCHOOL FOR PUPILS WITH SEVERE AND COMPLEX LEARNING DISABILITIES AGES 2 – 19.
Roz McFeeters
ROZ MCFEETERS HAS WORKED IN EDUCATION FOR 25 YEARS, EARLY YEARS, PRIMARY AND SPECIAL. AFTER 3 YEARS AS A PRIMARY PRINCIPAL SHE MOVED TO HILL CROFT SCHOOL, A 3-19 PROVISION FOR CHILDREN AND YOUNG PEOPLE WITH SEVERE AND COMPLEX NEEDS, WHICH SHE HAS LED FOR 11 YEARS.
Shona McCann
SHONA BEGAN HER TEACHING CAREER IN 2010. WHILE WORKING IN A SPECIAL SCHOOL IN NEW ZEALAND SHE QUICKLY FOUND HER PASSION FOR WORKING WITH YOUNG PEOPLE WITH SPECIAL EDUCATIONAL NEEDS. SHE VALUES PUPILS AS INDIVIDUALS AND BUILDS POSITIVE RELATIONSHIPS WITH THEM AND THEIR FAMILIES. EQUIPPING PUPILS WITH SKILLS FOR LIFE IS A PASSION OF HERS, INCLUDING SUPPORTING EMOTIONAL AND SOCIAL DEVELOPMENT. SHONA HAS RECENTLY BEEN APPOINTED AS VICE PRINCIPAL AT RIVERSIDE SCHOOL IN ANTRIM. SHE IS CURRENTLY WORKING ON AN INQUIRY-BASED RESEARCH PROJECT WITH THE EDUCATION AUTHORITY IN NORTHERN IRELAND AND PROFESSOR BARRY CARPENTER. THE PROJECT FOCUSES ON THE IMPACT OF SPORTS AND SENSORY SANCTUARIES ON ENGAGEMENT IN LEARNING.
RIVERSIDE SCHOOL IS BASED IN ANTRIM, NORTHERN IRELAND. IT IS A SPECIAL SCHOOL FOR PUPILS FROM 3-19 WITH SEVERE AND PROFOUND AND MULTIPLE LEARNING DIFFICULTIES. OUR PUPILS LIE AT THE HEART OF OUR SCHOOL. WE AIM TO MAKE A DIFFERENCE IN EACH OF THEIR LIVES BY LISTENING TO THEIR INDIVIDUAL VOICES AND PROVIDING THEM WITH THE BEST EXPERIENCES WE CAN THROUGHOUT THEIR TIME WITH US. WE ARE ADVOCATES FOR OUR PUPILS AS LIFE-LONG LEARNERS AND WORK WITH FAMILIES AND PROFESSIONALS TO ENSURE THAT WE PREPARE OUR PUPILS FOR THEIR ADULT LIFE WITH A HOLISTIC APPROACH TO THEIR DEVELOPMENT. WE ARE CONTINUALLY GROWING AND LEARNING TO BE THE BEST WE CAN BE FOR OUR PUPILS; LIVING THROUGH OUR SCHOOL MOTTO OF 'ENJOY, LEARN AND FLOURISH'.
Existing Subscribers to Evidence for Learning
£500 (ex-VAT)
Full access to the Learningshared cpld programme until 31st july 2023
Non-subscribers
to Evidence for Learning
£600 (ex-VAT)
FULL ACCESS TO THE LEARNINGSHARED CPLD PROGRAMME UNTIL 31ST JULY 2023
To enroll your School, College or Organisation, please complete the Registration Form, and w
e will be in touch to finalise your order and payment details
Frequently asked questions
Please complete the Registration Form and one of the team will be back in touch. There are two short forms that require completion which will ensure we have all the relevant details to enroll you and your users.
How long will I have access to the course?
The course will be active until 31st July 2023. Staff across your school or setting will have access from the start of your subscription until 31st July 2023. You will have the option to renew at the end of the subscription.
Do I need to complete the course all at the same time ?
No, you are welcome to log-in and access the course when it suits you, up until its expiry date (31st July 2023).
Once enrollment is complete, you will receive an invoice which details all the payment options. No up-front payment online is required.
Can I download the course materials?
Due to copyright restrictions, course materials are not generally available for download. (All materials can be accessed via the online learning system at anytime from anywhere).
Do I need a login and password?
Yes, each individual user will have individual login details which are personal.
Follow us on social media